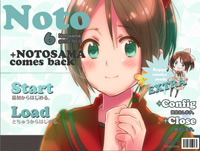 Noto-sama 6 (能登様6) is a mini-game created by Hidekaz Himaruya that was released as a free download on Bamboo Thicket in 2009 based off of the series Advance! Kitakou Broadcasting Club Pure, Barjona Bombers and Axis Powers Hetalia. The player plays as Noto Kanazawa and Yamato Nara, and as themselves, picking up a day after the events of Noto-sama 5. The game is incomplete, and Himaruya has stated that he would post a game patch at some point in the future.
Choice 1: Shield him
Edit
Choice 2: "It's dangerous, get out of the way!!"
Edit
Choice 3: Do a barrel roll!
Edit
Choice 1: Go through the main entrance
Edit
Choice 2: From the back gate
Edit
Choice 3: Walk around
Edit
Choice 1: Go home. There are things you can do once you return.
Edit
Choice 2: We don't have to go inside.
Edit
Game Patch (incomplete)
Edit
Characters
Edit
Ad blocker interference detected!
Wikia is a free-to-use site that makes money from advertising. We have a modified experience for viewers using ad blockers

Wikia is not accessible if you've made further modifications. Remove the custom ad blocker rule(s) and the page will load as expected.