Axis Powers Hetalia, later referred to as Hetalia: Axis Powers (ヘタリア Axis Powers) is a later webcomic by Hidekaz Himaruya and one of the more prolific yet infamous of his series. It began in October 2006, and has since been adapted into published format and an anime series, along with drama CDs.
The series is primarily a gag-themed manga involving representations of political and historical events, as well as old ethnic jokes and assorted trivia about the countries. Though the manga originally was meant to represent both the first and second World War eras, the direction shifted to representing other periods of history such as the medieval ages and the 21st century. The name Hetalia is a portmanteau of hetare and Italia, used to make light of Italy's apparent cowardice in the World Wars.
Initially, Himaruya was to write a story about a foolish hero in New York City, but after spotting the "Hetalia" name in discussions in a WWII thread on 2channel, the idea of the series changed dramatically. A Hungarian witch character planned for the original concept was later reworked into the personification of Hungary, though it is unknown what other elements his scrapped story contained.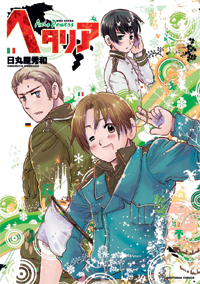 Characters
Edit
As this wiki is dedicated to other Kitayume projects, please see the Hetalia Archives for indepth information on Hetalia: Axis Powers.
The Hetalia series consists of several personifications of various nations and historical supernational states like the Holy Roman Empire, as well as territories that are not technically independent nations like Hong Kong.
Anime Adaptation
Edit
An animated adaptation of Hetalia was announced in July 2008, and premiered in January of the following year, though its debut was marked by controversy over the personification of South Korea, leading it to be banned from the network Kids Station, the removal of the South Korea character, and the relegation of the series to internet streaming.
However, the anime since spawned three more seasons, as well as a movie. It eventually made its way to the network BS11 in 2010, marking its television debut. The anime is licensed by FUNimation Entertainment for the North American market.