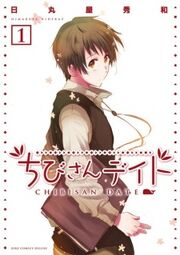 Chibi-san Date
(
ちびさんデイト Chibisan Deito
) is Himaruya's most recent manga. It is a slice of life manga that focuses on Seiji and his daily life on the crescent shaped island of Nantucket.
It is currently serialized in Comic Birz magazine, published by Gentosha Comics, which also published the Hetalia: Axis Powers manga. On September 12, 2010 a listing for an English printing was discovered on the Tokyopop website scheduled for a July 2011 release.
It focuses on Seiji; a young Japanese artist, who currently lives on the crescent-shaped island of Nantucket. The story follows his daily life and the people who live there as well.
Characters
Edit
Seiji Chiga
Edit
Main Article: Seiji Chiga
The main character of Chibi-san Date, he is described as being a worrier and pessimistic, though a very talented artist who likes to draw. He is also a a bit eccentric.
Mr.Suehiro
Edit
Main Article: Mr. Suehiro
Seji's mentor and also a potter, having immigrated to the United States from Kagoshima Prefecture. He takes care of Seiji and is described as being a calm, hardworking man.
Reinhard Fischer
Edit
Main Article: Reinhard Fischer
Seiji's best friend, who is described as understanding and caring. Though the two are total opposites in personality, their friendship seems to be quite strong.
Candy Baker
Edit
Main Article: Candy Baker
The elder of the two Baker sisters. She is reserved and somewhat snobby, but also quite cowardly and emotional.
Margaret Baker
Edit
Main Article: Margaret Baker
The younger of the Baker sisters. She is childish and cute, though more of a tomboy than Candy.
Chibi-san
Edit
Main Article: Chibi-san
A mysterious and mischievous young girl whose parents are unknown (though it is speculated she may be Suehiro's daughter). She loves to draw.
Main Article: Robert Wedgewood
A young boy who moved with his parents to Boston, though he currently lives at his grandparents' home. He has not shown up in the published manga yet, but in some exclusive strips of the series posted to the Kitayume blog. It is said that he is nicknamed "Rocket" due to his anger problems.
Main Article: Rani Sujanta Sachdeva
The worker at a bookstore in Nantucket, run by Rocket's grandfather. She is a cheerful girl, yet also quite scatterbrained. Her dream is to become a successful picture book artist.
Main Article: Crumb
An eccentric illustrator that came from Brooklyn. He debuts in the later Birz-serialized chapters of the series. It is said that he's very fond of alcohol and women.
Main Article: Altan
An art dealer from Albania, described as smart and big-hearted. He is roommates with Crumb.
Main Article: Dawit
Altan's friend and a fellow art dealer. He is of Ethiopian heritage and is an easygoing yet serious type of man.
Ad blocker interference detected!
Wikia is a free-to-use site that makes money from advertising. We have a modified experience for viewers using ad blockers

Wikia is not accessible if you've made further modifications. Remove the custom ad blocker rule(s) and the page will load as expected.