Featured Article
Chibi-san is a mysterious and mischievous young girl whose parents are unknown (though it is speculated she may be Suehiro's daughter). She loves to draw. More...

About Chibi-san Date
Main Article: Chibi-san Date (manga)
Chibi-san Date(ちびさんデイト Chibisan Deito) is Himaruya's most recent manga. It is a slice of life manga that focuses on Seiji and his daily life on the crescent shaped island of Nantucket.
Poll Time!
Kitayume Blogs
Create blog post
Blogs
Kitayume Wiki has moved hosts and is now on ShoutWiki. The site can be accessed at kitayume.shoutwiki.com

Read more >

I started a Kitayume Answers questions wiki. I made this in hopes if anyone would like to know about Himaruya's other series.

It's been up for quite a while, but no one but I and MizuTakishima have vi…

Read more >

你好! 近排點呀? (Néih hóu! Gahnpàaih dím a?)

(Hello! How are you doing recently?)

Wiki got a new look and Monaco will be no more on November 3rd. So I'm thinking about a November Revamp of this place. Any op…

Read more >
See more >
Featured Image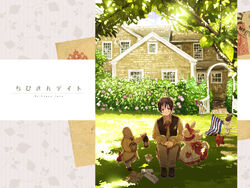 Helping Out
To write a new article, just enter the article title in the box below.
Not sure where to start?
Ad blocker interference detected!
Wikia is a free-to-use site that makes money from advertising. We have a modified experience for viewers using ad blockers

Wikia is not accessible if you've made further modifications. Remove the custom ad blocker rule(s) and the page will load as expected.