Featured Article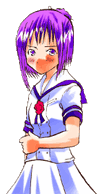 Imari Hagakure (葉隠いまり Hagakure Imari) is a minor character in Advance! Kitakou Broadcasting Club. She attends the prestigious St.Andreas Azumi Academy (in the Pure version, while the school she attends in the classic strips is Asaka High School). More...

About Advance! Kitakou Broadcasting Club
Main Article: Advance! Kitakou Broadcasting Club (webcomic)
Advance! Kitakou Broadcasting Club (すすめ!きたこー放送部, Susume! Kitakou Housoubu, lit: Progress! North Industry Broadcast Department) was the first webcomic created by Hidekaz Himaruya, debuting with the launch of his site Kitayume in March 2003. Himaruya, who was a teenager at the time he created the comic, stated that his motivation was to write a story to show how enjoyable the experience of broadcasting clubs was. But he also noted that the comic quickly became something bigger and took different twists. The comic focuses on the broadcasting club at Koriyama Kitakou High School and the new student named Noto who attempts to bring the club back to its former glory.
A parallel version of the webcomic, entitled Advance! Kitakou Broadcasting Club Pure (すすめ!きたこー放送部Pure, Susume! Kitakou Housoubu Pure), was launched in early 2004. While both comics share a number of the same characters, there are key differences between each version.
Poll Time!
Which version of "Advance! Kitakou Broadcasting Club" do you prefer?
Kitayume Blogs
Create blog post
Blogs
Kitayume Wiki has moved hosts and is now on ShoutWiki. The site can be accessed at kitayume.shoutwiki.com

Read more >

I started a Kitayume Answers questions wiki. I made this in hopes if anyone would like to know about Himaruya's other series.

It's been up for quite a while, but no one but I and MizuTakishima have vi…

Read more >

你好! 近排點呀? (Néih hóu! Gahnpàaih dím a?)

(Hello! How are you doing recently?)

Wiki got a new look and Monaco will be no more on November 3rd. So I'm thinking about a November Revamp of this place. Any op…

Read more >
See more >
Featured Image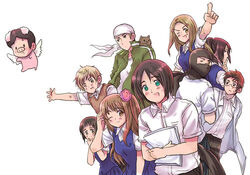 Helping Out
To write a new article, just enter the article title in the box below.
Not sure where to start?
Ad blocker interference detected!
Wikia is a free-to-use site that makes money from advertising. We have a modified experience for viewers using ad blockers

Wikia is not accessible if you've made further modifications. Remove the custom ad blocker rule(s) and the page will load as expected.